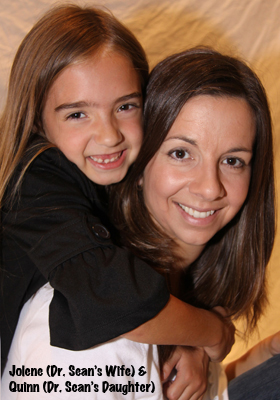 Jolene's two cents… Somewhere in my family history someone had a bad experience with a chiropractor. I was told and believed that once I saw a chiropractor, I'd have to keep going for the rest of my life.  I suffered a lot of neck pain. In my early 20's this neck pain caused headaches. I remember taking a lot of ibuprofen because it seemed to help.  The pain just came back after the medication wore off so…I would take some more. I shudder at the work my liver had to do.  I met Sean in 1998 when he was going to Palmer College of Chiropractic in Davenport. We lived in the same apartment complex and met at the pool!  Sean never was one to give a chiropractic adjustment unless I asked. In fact, I think we dated a few months before he adjusted my neck with chiropractic. I remember laughing really hard after because it was something I had never experienced. It chiropractic adjustment didn't hurt at all.  After that I occasionally asked him for an adjustment. I noticed my consumption of ibuprofen had reduced considerably.  Now days, I keep some on hand but rarely use it.  If someone asks me for some I find myself saying, "you're welcome to what I have but I think that it's expired."   Some people might think that it's the love of a good man that reduced my stress and therefore I get fewer headaches.  Believe me…I was far less stressed in my early twenties before becoming a wife and mother.
By the way…My Mom now sees Sean for chiropractic care and my Dad saw him as well before his passing. I guess Sean helped change their minds. My siblings all seek chiropractic where they live as well.
Choosing a chiropractor is a personal experience and you have to be comfortable with where you end up.  I was lucky enough to find Sean and never had to go anywhere else. I compare it to finding a medical doctor or a dentist that fits you and your healthcare style.  I have gone through quite a few dentists over the years and finally found one that's just right for me. If you haven't been really happy with your chiropractor or are new to the area and need a chiropractor, I suggest that you give my chiropractor a try!